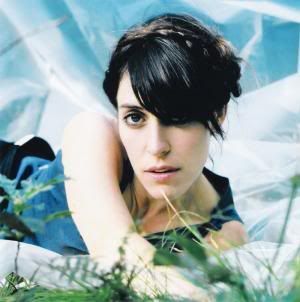 Feist
The Reminder

- 4/5

Narks




Whether she meant to or not, Leslie
Feist's
The Reminder
is more than just a random album title. Budding songstress
Feist
, more than adequately makes a suggestion as to what mainstream music could be: clever, catchy, thoughtful songs, breezily sung over passionately arranged instrumentation. It doesn't even have to be classified as "indie". With her jump from a small, independent label to
Interscope
, it could easily be great pop music.
"1 2 3 4" (and its great video) has already jump-started the buzz with a persuasive plea to a past love. With folk guitar (maybe banjo) chords, jazzy piano and choir backing,
Feist
does her best to playfully woo her admirer. She explains why the relationship didn't work before with the old saying "put the horse before the cart." "The Park" sounds like it was genuinely recorded at that exact location featuring cricket chirps, a subtle wind, and slight vocal distortion (but never threatens the quality), as if you were hearing a well-trained street performer. The bluesy, "Sea Lion Woman" potently tells the story of a lady who has two sides to her, a shady temptress and an ideal wife.
Feist's
narrative is backed by hand claps and gospel-inspired chants of "She lied" and "She loved" after each bar that serve as warnings to potential suitors.
Feist
is at her best when the tempo picks up on"I Feel It All" and "My Moon My Man". On "I Feel It All", her breath-filled approach at singing various lengths of stanzas relates to the moody subject matter (a uneven, if not hurtful relationship). This technique intertwines with the syncopated acoustic strums and returns unconventional, but welcome results. "My Moon My Man" uses the same intermittent, fluttering singing procedure, but with a hauntingly low-keyed piano and bass.
Feist
cleverly narrates this ode to a beau who has similar habits to a certain celestial body ("Take it slow/Take it easy on me/Shed some light/Shed some light on it please").
Feist's
airy vocals are refreshing and a perfect fit for this folk and jazzed-infused treasure.
The Reminder
should be a hint to the mainstream of what pop music could be.
Feist

- I Can Feel It All